geetha thurairajah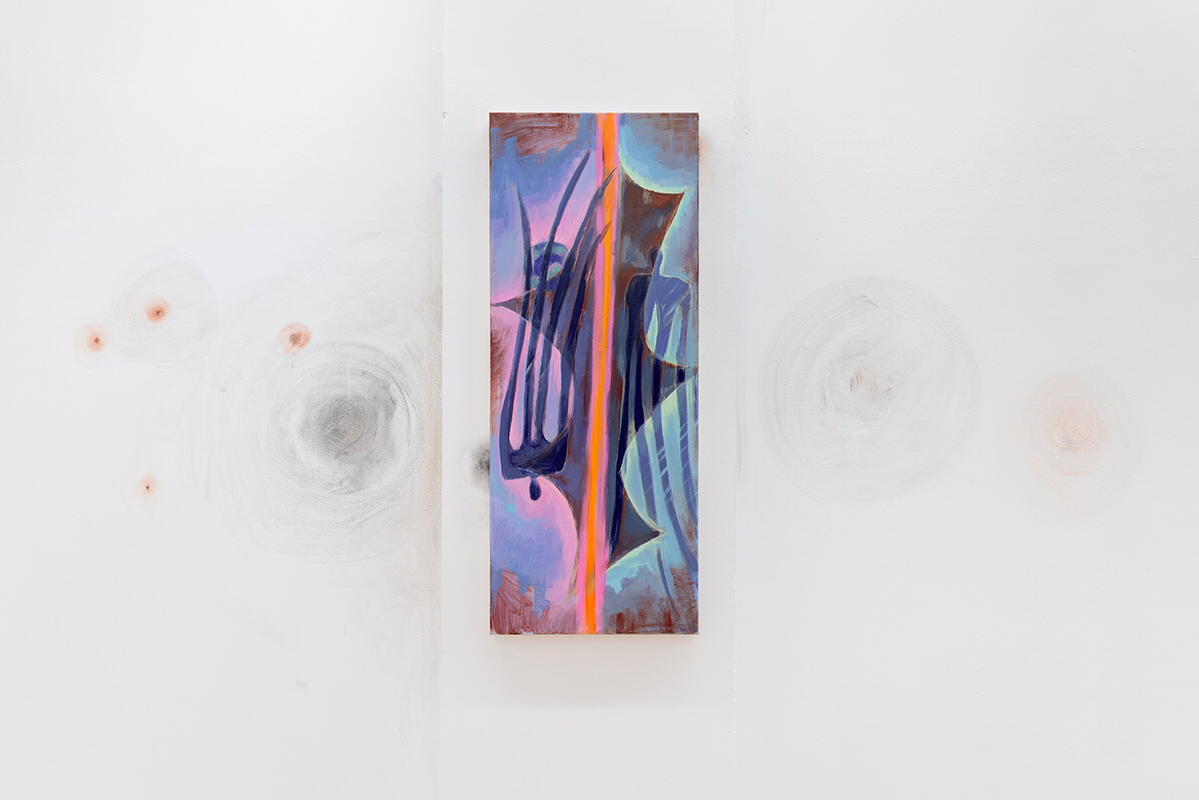 Often grounded within natural spaces yet appearing entirely impossible thurairajah's paintings are organized around dualities— diagrammatic and spatial, abstracted and representational, historic and anachronistic. Each painting is anchored by an interrogation of its conventions. Through paintings and installation, thurairajah's work unsettles conventions in painting by addressing how histories can be recoded and inverted. The ways in which her works destabilize reality asks the audience to participate in a world that demands a self-conscious gaze.

The goal of thurairajah's work is to challenge assumed knowledge and to defy our assumptions as they relate to painting, its history and cultural knowledge. How are origin stories authored and who is left dis/possessed of power once they are written? These are questions thurairajah asks when examining how language can influence hierarchical representations within culture at large.

thurairajah (b. 1986 Waterloo, Ontario, Canada) is currently based in Brooklyn, NY. She received a BA from Wilfrid Laurier University (2010) and a BFA from the Nova Scotia College of Art and Design (2014). She was a finalist in the RBC Canadian Painting Competition in 2016 and 2018 and received an Honourable Mention in 2018. She has taken part in recognized artist residencies such as Studio Residency at Interstate Projects in Brooklyn (2017), Fall Residency at Ox-Bow in Saugatuck, Michigan (2017) and 2D Banff Artist in Residence in Banff (2015). Recent exhibitions include a two-person exhibition, Ozone Gleaners (w/Tiziana La Melia) at Projet Pangée, Montreal, QC (2020) and solo exhibitions including Migration is more momentous than ancient invasions, Kitchener-Waterloo Art Gallery, Kitchener, ON (2019); Mingling with flowers panthers' eyes, The New Gallery, Calgary (2017); Shapeshifter, Projet Pangée (2017); Boons of Another, AC Repair Co, Toronto (2017); Goodbye here no matter where, 8-11 Gallery, Toronto (2017). Recent group exhibitons include Invisible Exports, New York (2019), Fourteen30 Contemporary, Portland (2019), American Medium, New York (2018), Oakville Galleries, Oakville (2018) and Loyal, Stockholm (2017).
www.geetha.ca
︎@gttttttttttttttttttttttt